CKN Summer Tour Special - T-Shirt, Photo Print and Digital Photo Combo
00009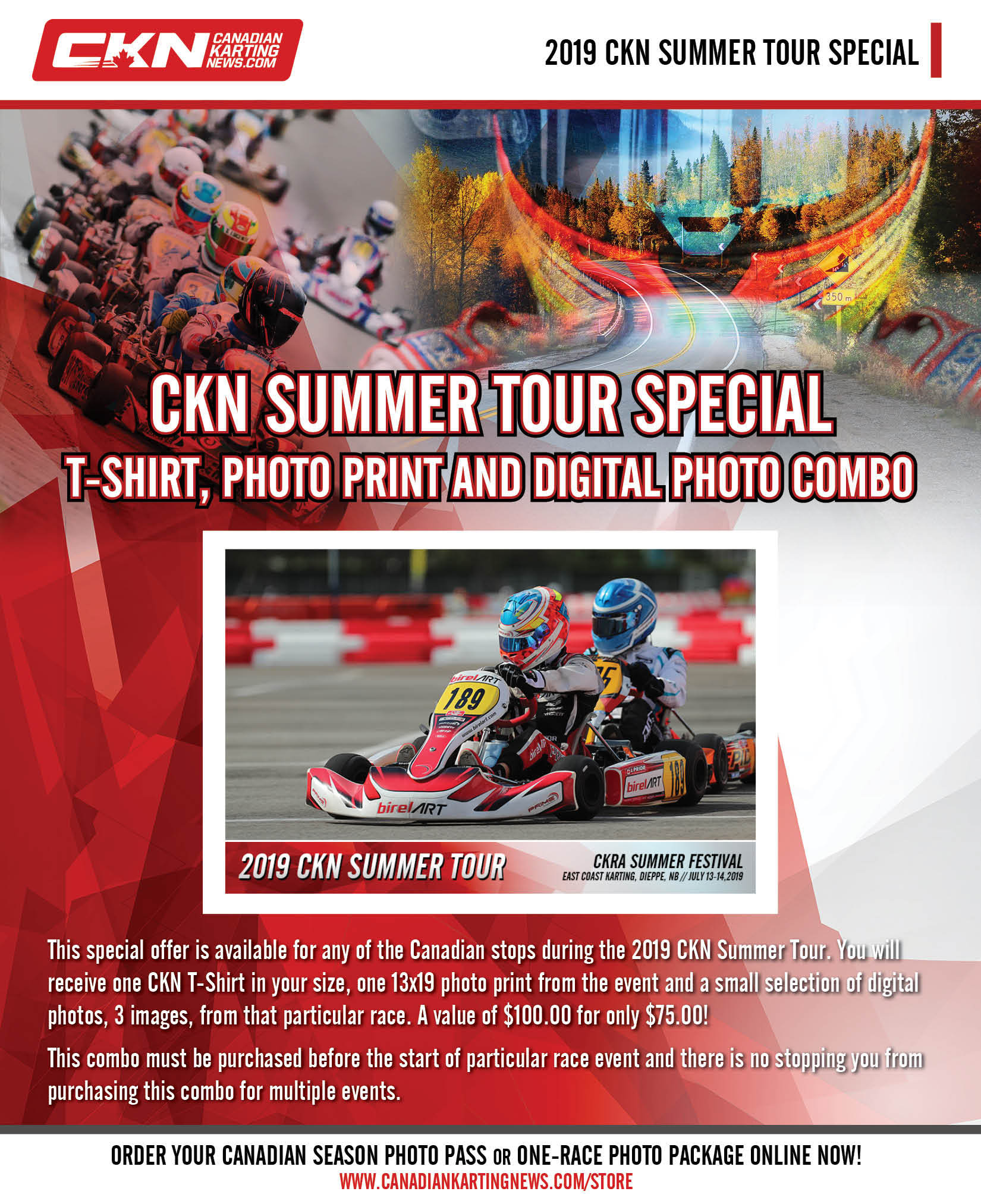 Racers, have we got a combo for you!
This special offer is available for any of the Canadian stops during the 2019 CKN Summer Tour. You will receive one CKN T-Shirt in your size, one 13x19 photo print from the event and a small selection of digital photos, 3 images, from that particular race. A value of $100.00 for only $75.00!
This combo must be purchased before the start of particular race event and there is no stopping you from purchasing this combo for multiple events.
Interested in extra digital photos? For $50.00 we will capture more than 10 images of you at the event!

2019 CKN Summer Tour Event Schedule:
May 12 - Coupe de Montreal / SH Karting
May 17-19 - Motomaster Ron Fellows Karting Championship / Goodwood Kartways
June 8-9 - CKN Dash for Cash / Canadian Mini Indy
June 14-16 - Motomaster Ron Fellows Karting Championship / Canadian Mini Indy
June 23 - Coupe de Montreal / Circuit ICAR
June 28-30 - Western Canadian Karting Championship / WF Botkin Raceway
July 5-7 - Motomaster Ron Fellows Karting Championship / Mosport Kartways
July 13-14 - CKRA Summerfest / East Coast Karting
July 19-21 - Canadian Open / Jim Russell Karting Academy
July 26-28 - Motomaster Ron Fellows Karting Championship / Mosport Kartways
Aug 14-18 - ASN Canadian Karting Championship / Mosport Kartways
Sept 6-7 - Motomaster Ron Fellows Karting Championship / Goodwood Kartways
Sept 20-22 - Coupe de Montreal Fall Classic / Jim Russell Karting Academy
*Schedule Subject to Change
Race Event
06/28-30 - Western Canadian Karting Championship @ WF Botkin Raceway (0) 07/5-7 - Motomaster Ron Fellows Karting Championship @ Mosport Kartways (0) 07/13-14 - CKRA Summerfest @ East Coast Karting (0) 07/19-21 - Canadian Open @ Jim Russell Karting Academy (0) 07/26-28 - Motomaster Ron Fellows Karting Championship @ Mosport Kartways (0) 09/6-7 - Motomaster Ron Fellows Karting Championship @ Goodwood Kartways (0) 09/20-22 - Coupe de Montreal Fall Classic @ Jim Russell Karting Academy (0)
T-Shirt Size
Small (0) Medium (0) Large (0) X-Large (0)
Want more Digitals? Select to get 10+ Images
Yes (50)